Associate Professor Inoue received the Young Investigator Award(YIA) at the 96th Annual Meeting of the Japan Endocrine Society. The meeting was held in Nagoya, Japan, from June 1st to 3rd, 2023.
In his presentation, Dr. Inoue proposed the concept of "High Benefit Approach" in which treatment allocation is targeted to individuals with high benefit estimated from state-of-the-art machine learning algorithm (causal forest). He and his team demonstrated the usefulness of this new approach in hypertension management using a large RCT data.
It is a great honor to receive this award in the field of epidemiology, and we expect further progress in bridging the fields of epidemiology and clinical medicine based on the results of this research.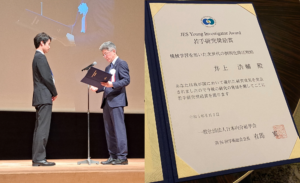 Article:
Kosuke Inoue, Susan Athey, Yusuke Tsugawa (2023). Machine-learning-based high-benefit approach versus conventional high-risk approach in blood pressure management. International Journal of Epidemiology.